Gallery & Studio of John Wiseman
---
Since the opening of our gallery in 1989, it has been a great pleasure and honour to exhibit Roland Nicolas's stone sculptures. I met Roland on the beach at Anse a Beaufils while collecting agates back in the late 70's. We shared many stories about searching out these elusive and mystical stones on our local beaches and over the years we developed a close friendship. Through this relationship I was introduced to his work and Lucie and I became passionate collectors of his wonderful creations. Roland Nicolas was a "pure-breed" Gaspesian, born in Grande-Rivière. He used the Gaspesian stones he found around him as his raw material and the most basic of tools and equipment. He rarely ventured far from his native home.
Roland passed away in June 2007 at the age of 80. Only days before his passing, Roland called me to come and see his most recent productions. That was a most unusual meeting. Upon arriving at Roland's home, at nine o'clock in the morning, he was his typical cheerful self, though I thought it quite strange and out of character that he offered me a glass of wine at that early hour. Sadly, I was rushed for time that morning and I parted with some hesitancy, wondering what was up with the offer of a glass of wine at such an unusual hour. The next day, Roland was admitted to hospital......he never came out. Looking back, he must have known and I had missed the signal of that last glass of wine at 9 am with a dear old friend.
A LOVE AFFAIR WITH STONE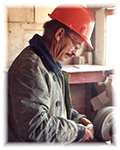 These magnificent stone sculptures are but a small presentation of the prolific work accomplished by Roland Nicolas. Born in Grande-Rivière in 1927, this great Gaspesian artist started his life long career as a sculptor in his late teens. His works are represented in numerous private collections around the world, despite the fact that he led nearly a hermit's life. He shunned the lime light and journalists but he had a large and faithful following. People who were touched by his work new instinctively they were getting the 'real deal'.
Though he used many raw materials, the type of stone Roland preferred was Gaspesian banded marble (also called banded calcite or more often, Gaspesian Onyx). This particular type of marble originates locally from unusual nodular formations and is found on local beaches and in river beds. It is relatively common, but beautiful stones of high quality and good size for carving are quite rare. Roland often related to me in his late years that it was becoming increasingly difficult to find good quality rough material. Many areas have indeed been 'picked clean' as so many rock hounds and collectors comb the beaches and hinterlands for treasured Gaspesian stones.
Nearly 60 years of experience enabled Roland to 'read' this stone in a unique manner. I recall often seeing rough stones at his home and asking what they would be used for. In his peculiar fashion, he would simply shrug and reply, ' I don't know, I haven't seen it yet'. One of his best qualities was his ability to use the lines and character of the stone to create his stylized, expressive figures inspired from the nature he observed around him.
Roland is sadly missed, but his work will live on, bringing joy and happiness to all those who were lucky enough to know him and perhaps procure a piece of his work. He will be remembered as an important and unique Gaspesian artist.