Maisonart

---

Gallery and Studio of John Wiseman
_______________________________________________________________________________________________________________________________________________________________________________
CELEBRATING OUR 34rd YEAR SINCE THE OPENING OF THE GALLERY
**And our 49 Years since establishing at Percé **

WHAT'S NEW
Spring is well established and it's a bit of a rush to prepare the gallery for the summer of 2023. Here is the new version of our website. We have installed Paypall to facilitate your online purchases. We hope that everything will work smoothly but we might have missed some links. So feel free to contact us to point out any mistakes or difficulties you might encounter.
Last winter John tackled new subjects: two were commissioned portraits of Canadian and Newfoundland stamps. (John has prepared a text that will explain the how and why of this new endeavour. follow this link)




"Blue 5 cent Admiral" (10 " x 11 9/16 " (25.4cm x 29.5cm)
"Newfoundland Cod Stamp"(10 1/2" x 12 3/4") (26,8cm x 32,4cm)


"10c Small Queen" (11 3/4" x 13 3/4") ( 29,7cm x 34,9cm)





And below, more typical of John's work: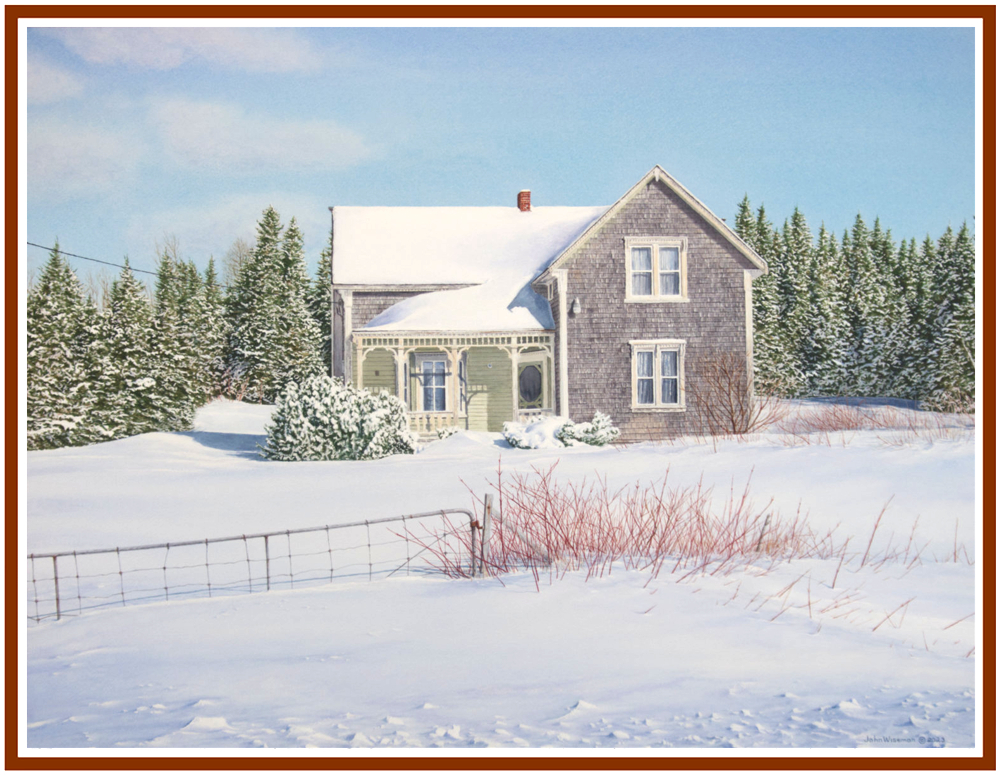 "Malbaie" (27" x 20 1/4") ( 68.6cm x 51.5cm)
Prints of new paintings are now available and will be added soon to the print catalogue

We have been pleasantly surprised at the interest shown for our growing assortment of greeting cards available through our gallery. The cards mostly represent John's paintings and drawing, though we also have a series depicting some of the wonderful agates and jasper we've collected from local beaches.
For those who may be interested in purchasing cards, they are priced at $6.00 each, or $29.95 for a pack of six; applicable tax and shipping extra. We have some selected sets in six-packs depicting owls, warblers, winter landscapes and many other themes. You can also pick your own preferences by referring to the web site catalogue. Simply make reference to the images of your choice along with the catalogue numbers.
The cards measure 5'' X 7'' (12,7cm X 17.8cm). They are printed on archival card stock using the same light-fast inks used to produce our limited edition prints. All our cards are produced here in our shop. They are individually prepared and packed and we are the sole distributor.
The gallery exhibit comprises original watercolours, pencil drawings and a wide and varied selection of limited edition prints. Also on display is a wonderful selection of banded marble sculptures by the late Roland Nicolas – all works he made from locally hand picked stone here in the Gaspé. We also present my selection of hand made knitted-ware; mitts, hats, bags etc.
This summer we are expanding the exhibit of minerals to include a selection of our local and world wide AGATES.
| | | |
| --- | --- | --- |
| | | |
| | | |
| | | |
| | | |
So there is plenty to see and all are invited to our 34th year since opening the gallery.

We are open daily from 9am to 6pm. ENTRANCE IS FREE
Meanwhile, we hope you enjoy perusing our web site.


Cheers,
John & Lucie