UPDATE; August 28, 2022 with *** FALL SPECIAL ***
Our last update for this page was waaaaaaay back in the spring, so it's well past due for some news here! As usual, the time has flown and the first touch of autumn is in the air. With covid restrictions having been relaxed, we saw quite a few of our old client friends as well as new visitors to the gallery this summer. And a most kind mention of thanks and appreciation goes out to all for their continued interest and support for the work we do here.

It has come to our attention that our location has been inaccurately situated on Google Map. The problem is in the process of being remedied. In the mean time, please consult our web site or call if you require assistance and feel free to contact us for any of your questions or needs regarding your interests in art.
We have reworked our web site in the last few months. There might still be faulty links, missing image. Please, if you encounter any problems let us know.

There has been plenty to keep us busy and now with the summer winding down, it's time to get onto some new projects. In addition to new prints now in stock, we have one more that should be posted here shortly. The newest limited edition portrays a Saw whet owl emerging from its nesting hole in a maple tree, a fond memory from some of my past birding adventures in Ontario.
*** FALL SPECIAL ***

Before proceeding with further notes, I'll draw attention to our new special: I have a small inventory of prints from my early works in pen and ink dating back to the early to mid 1970's. These were SMALL EDITIONS of either 100 or 200 prints. With any purchase of any full size LIMITED EDITION from our catalogue, the buyer will be entitled to choose any one of these prints as a free bonus (see the catalogue with links below for the prints from pen and ink drawings – these prints were made to the same dimensions as the originals). Quantities on these early prints are low so ''first come, first served''. (one selection per customer). A few are nearly sold out so in the event that your first choice is unavailable, be prepared with a second choice. Also, for a limited time, shipping is **FREE** to Canadian addresses. Click here for images in Pen and Ink. To take advantage of our free shipping, please write us to our e-mail with your choices and we will send you an ajusted invoice with the correct amount to pay.
A few words about my latest works in pencil

For some time, I have been on the hunt for old post cards and historical images from around the Gaspe. One of the aspects of the Gaspe Peninsula that has always had a profound affect upon me is the chance discovery of special locales. These singular places have a mystical ability to transport me to some other distant place in time. As much as these experiences can be fleeting, even haunting, they are a tremendous source of inspiration. It can make for a startling awakening to be confronted with these timeless places in an age when we always seem to be running, running……...running.
So stumbling upon some of these exceptional sites or discovering such historic, well worn images can rivet my attention, triggering a desire to strive for a deeper connection with the past. In making my own interpretations of some of these subjects, which can take several weeks or months, I often start to develop a sort of spiritual connection with the places, people or objects in the study. In more real terms, careful examination of these long ago lost people and places, brings to mind just how much we humans have reshaped the planet…..how much has been irreparably altered in my own short life. It gives cause for wonderment, if not a sense of trepidation as to where we, as a species are headed.
| | |
| --- | --- |
| | |
| "Les Enfants de l'Anse: circa 1930" (25" x 18 3/4") (63.5cm x 47.7cm) | "Pic de l'Aurore, Percé; circa 1930" 28 3/16" x 21 1/16" (71.6cm x 53.4cm) |
Some observations over the summer,

On another subject, in addition to my own bird and wildlife observations, there's quite a few note worthy sightings from all points in the Gaspe Peninsula as a growing number of enthusiasts report their observations on the web site for the ''Club des Ornithologues de La Gaspésie''. Some of the news in the bird world is rather sad, tragic even, but before that, some of the jubilant things: through mid to late July, we had our typical compliment of yard birds including Northern waterthrushes, Redstarts, Yellowthroats, Cape May warblers, Alder flycatchers, Catbird, Northern flicker, Veerys, Swainson's thrushes, Grey-cheeked thrush, Red-eyed and Philadelphia vireos, Ruby-throated hummingbirds (many!), Merlins and Marsh hawks, Bank swallows and a pair of Tree swallows that reared a family of 4 young, etc. We had a 'jazzed-up' White–throated sparrow with a most unusual variation in its song, something the likes of which I've never heard before; kept us well amused through the summer, even during the night at times as some species occasionally have sudden outbursts of song in the middle of the night. We're fortunate to still see and hear Bobolinks that are nesting in fields adjacent to our property, a species that is among the many that have been on a sharp decline throughout most of their range. Some of the more unusual things included a Long-eared owl, a Black-billed cuckoo a small number of Harlequin ducks and a Turkey vulture. The Turkey vulture has become a regular visitor, possibly also as a breeding bird to our region over the past decade or two. It is one of several species that have been expanding their range.

In late July through mid August, there were already the early signs of fall migrants showing up with sightings here of Whimbrels and 2 Black-bellied plovers, the latter seen at Pabos. Also reported were Ruddy turnstones and a Baird's sandpiper as well as a Little blue heron, a rare bird indeed for our region. Recently I made note of a Goshawk seen at Forillon, migrating Night Hawks, Black-throated green and Yellow-rumped warblers and this week I've noted Great blue herons and an Osprey passing by home. While Lucie was on an excursion with her students on August 22, she was fortunate to spot a Golden eagle near Gaspe that was in the process of dining on a Canada goose. For the whole class, it was an exceptional experience as one or two sightings a year for us is the norm – if we're lucky!

Also recently, Lucie and I spotted a male Peregrine falcon near St Therese and I saw a family group near home. This ensemble was comprised of two juveniles accompanied, judging by its comparatively large size, an adult female; the first Peregrines I've seen since early spring and sadly a species that appears to have taken a hit this year in the general area. As many as 5 or more pairs have been nesting at various points in the municipality of Perce in the past decade, a strong recovery from previous decades when they were essentially extirpated from much of their former range due to egg shell thinning caused by DDT and other environmental toxins.

On August 22, I happened to be wandering around the yard at 4:00 am in anticipation of quite a spectacular sun rise shaping up in the east. Perhaps even more surprising than the anticipated visual panorama was the yet deep, dusky sky that was filled with bird calls. It was a chance occurrence to be just on time to hear what certainly was many hundreds of nocturnal migrants passing overhead, quite low as they must have been dropping down from high above with the first signs of the coming dawn. The majority of notes I heard were most certainly those of various thrush species, but I could also discern those of Vireos and others that were quite likely a mix of warblers, sparrows and others. It is something of a challenge to be able to identify all the classic day time songs of our hundreds of local species; it is quite another to be able to decipher the call notes of small song birds high overhead in the night sky…….but it is a most enchanting and enthralling experience to witness such a wonder and this was one of the best shows of nocturnal migrants I've seen in years, the numbers quite probably being bolstered by young of the year. As the dark was lifting, I saw many darting and weaving shadows of birds coming down to find shelter among the trees and shrubs and as the sun broke on the horizon, all the previous chatter quite suddenly fell into a deafening silence.

As a footnote to the above, on the night of August 31 – September 1, I was witness to another major night flight. Between 11:15 and 12:30 am I heard many hundreds, more likely thousands of call notes as a wide variety of song birds were on their way south. Conditions that night were very calm with no perceptible wind, no moon and a star-lit sky. In such conditions the birds were flying at great elevation for the most part though I often heard some call notes from quite low which may have been birds that had just recently taken flight to join their cohorts high above. Indeed, some call nots were barely audible since some birds were no doubt at very great heights. Through much of September and occasionally into October, we can normally expect to hear nocturnal migrants, especially on nights with favourable weather conditions. I have always paid attention to these nocturnal bird movements noting sadly in the past decade that the density and make up of such flights have been greatly diminished compared to what I heard in past decades. The birds certainly endure an increasingly hazardous journey to reach what's left of their wintering grounds. I often wonder how many of these wonderful and mysterious little voyagers will make it back to enliven our days, and nights, in the following spring to once again replenish their diminished ranks in the constant struggle for survival.

On a more disconcerting note, and despite the encouraging spate of recent observations, many Eastern North America bird species in particular, as well as commercial poultry and game bird farms, have suffered very high rates of mortality this year due, among other perils, to the outbreak of avian flu. Local marine bird populations especially have suffered serious losses, including the bird colonies of Bonaventure Island, the Perce Rock and elsewhere up and down the coast. Gannets in particular, but also Razorbills, Murres, Guillemots, Cormorants, Eiders and no doubt a number of other marine duck species and Gulls have suffered, not to mention a variety of land birds that succumbed to the disease. Many of the birds of prey that we might expect to see around home have been all but absent for months with only a thin spattering of wide spread sightings cropping up lately. How this malady will play out in the end game remains to be seen. At the present, I am still hearing a variety of sad anecdotes about beaches dotted with carcasses and I've watched many lone Gannets off shore in front of home exhibiting unusual behaviour that almost certainly indicates birds that are in the final stages of decline.

While it is not particularly uncommon for wild and domestic bird populations to be afflicted with rampant disease outbreaks, it is quite out of the norm for such birds as Gannets and some of the marine species to be caught up in these types of flare-ups. Since Gannets and other colony nesters are so densely packed one can well imagine the potential facility for transmission of an air born disease and how it might especially endanger nestlings. The resilience of the natural world is certainly being tested to its limits and beyond these days. The recent listing of the Monarch butterfly to the weighty file of endangered species clearly brings home a sobering message.

In closing, I hope those of the French persuasion will grant me some patience since there will be a slight delay in getting the translation made up for what has become a longer than intended update.

Best Regards,
John & Lucie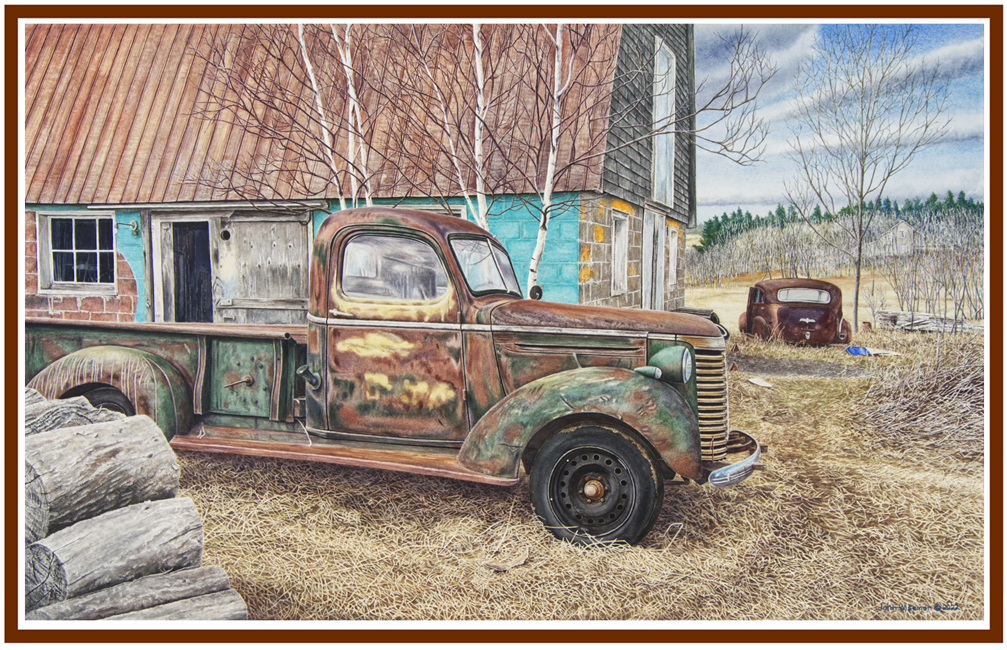 Jimbo's Chevy (29" x 18") (73.6 x 45.9) Original Watercolour